Every day should be a Key West Day!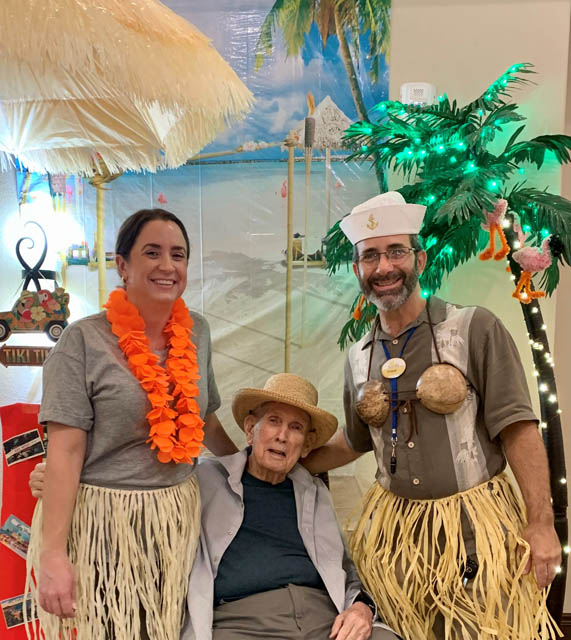 Emily, Charlie & Frank enjoy the Key West Party
Destination: Key West! That was the theme of July's Make-A-Wish Tea Party. Guests were served Margaritas, Key Lime pie & other tropical snacks. The activities team did a great job of entertaining with song, dance & lots of laughs. Of course, it was all for a great cause-the Make-A-Wish Foundation. Our generous residents contributed over $100.00. At the end of the year, we gather donations from each month & Aravilla meets the amount to double our annual gift. In August we'll be traveling form Key West to the Wild West, so join us for some rootin' tootin' fun!
It's as Easy as ABC-Aravilla Book Club!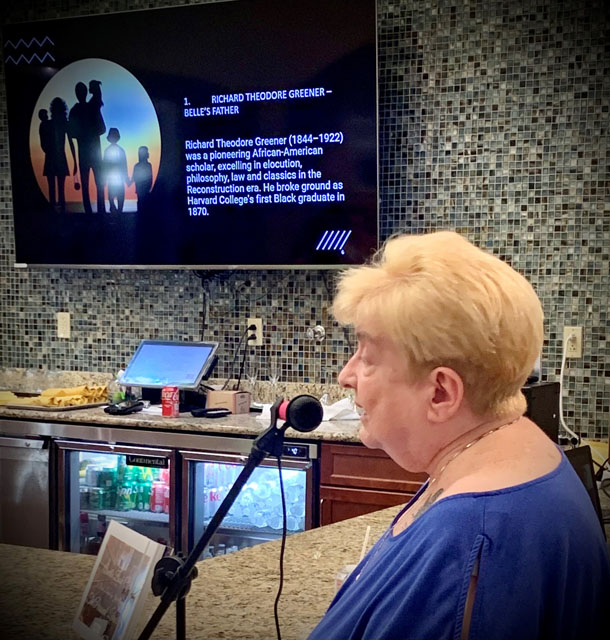 Aravilla resident, Joyce Aubrey shares the story of Belle
In last month's installment of the Aravilla Book Club Lecture series, our very own resident; Joyce Aubrey gave a review of the book "The Personal Librarian". The talk incorporated a very interesting Power Point presentation that she created. The historical non-fiction story told the tale of the lifework of Belle, the personal librarian to J.P. Morgan, as well as her position as the first director of the Morgan Library & Museum. Joyce did an amazing job in her synopsis of the story and shared her passion for the incredible work of the protagonist, Belle.
Any Age is the Right Age to Exercise!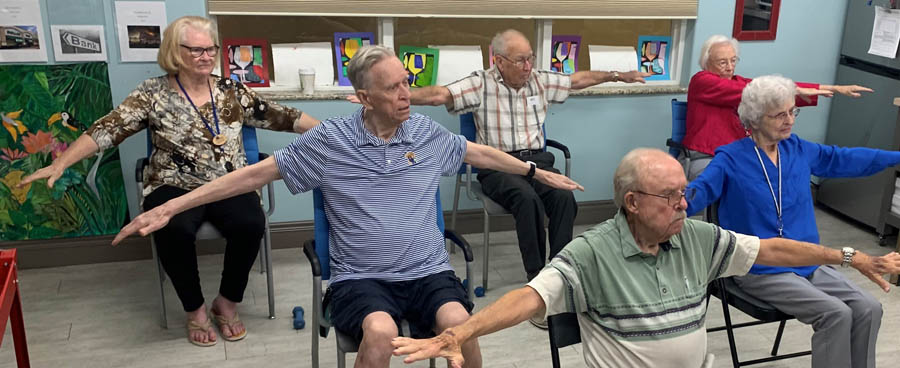 Ellen, Jerry, Paul Wes, Gloria & Cynthia keep fit at our Morning Exercise Class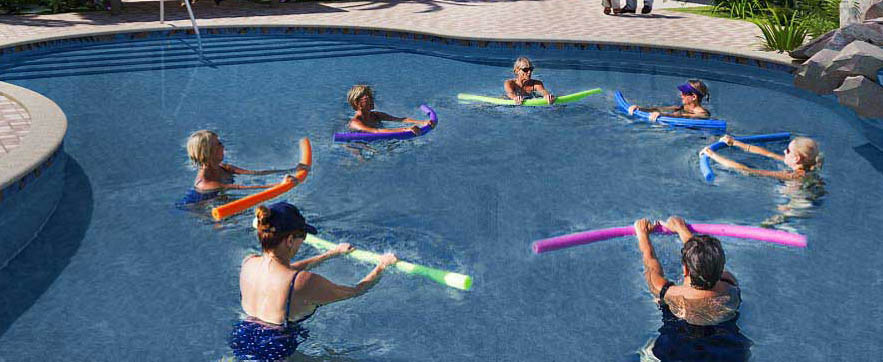 Our daily exercise classes are really rockin' & rollin'. Every morning the Activities Studio is filled for a variety of strengthening, stretching, focus & fun. We offer a full program to keep our residents in tip top shape. With 5 instructors, we offer a diversity of styles & personalities to fit everyone's abilities & interests. And, let's not forget our incredible water aerobics workout. There's nothing like enjoying a dip in our lovely pool & benefitting with a safe workout, making the most of beautiful Florida.
6 Tips for Senior Sun Safety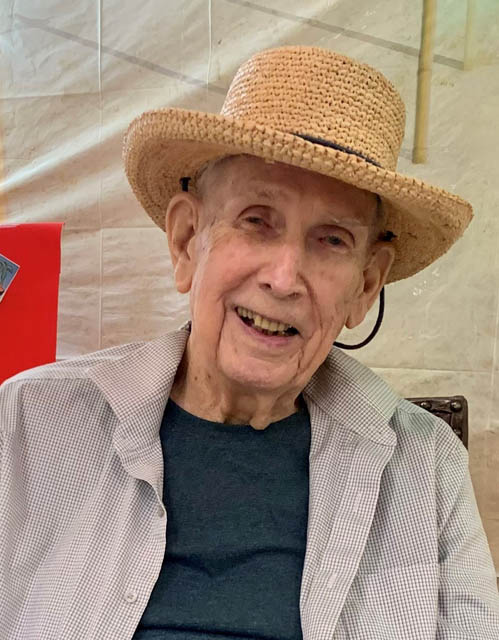 It's great to have fun in the sun, but we need to remember some important safety measures as our temperatures rise into triple digits.
Keep Hydrated-Sip water throughout the day. Don't wait until you're thirsty!
Wear sunglasses-that block 99 to 100 percent of both UVA and UVB radiation.
Check your meds-certain types of medicines that can cause sensitivity to the sun.
Stay in during peak hours-Seek the shade, especially between 10:00am-4:00pm.
Use sunscreen-at least SPF 30 and apply it 30 minutes before going outside.
Wear protective clothing-especially a broad-brimmed hat.
August Big Events!
Monthly Excursions Lunch Outings & Special Events
Olive Garden
Detwiler's
Spanish Point Tiki Bar
Ollie's/Beall's
Connor's
Dutch Valley
Triple Tail
Make-A-Wish Tea Party
Wild West Party
Thursday, August 17th at 2:30 pm
All Donations go towards Make-A-Wish Foundation
Meetings
Resident Council
Tuesday, August 8, 2023 at 10:30 am
Dining Committee
Friday, August 11, 2023 at 10:30 am