Gourmet Dining Experience
Dining at Aravilla Sarasota is unprecedented in its quality, presentation, and service. Professional chefs plan and prepare meals using the freshest ingredients, which are served in beautifully appointed dining rooms with tasteful linens, dishes, and flatware. Most menus are inspired by the Mediterranean diet, known as the healthiest diet in the world, with minimal sodium to optimize heart and brain health.
Enjoy Delicious Meals in a
Resort-Style Atmosphere
"Artfully presented meals are prepared by our professional chefs using the freshest ingredients– from the Mediterranean diet to down-home comfort foods. Of course, our chefs are always happy to accommodate special requests and dietary requirements."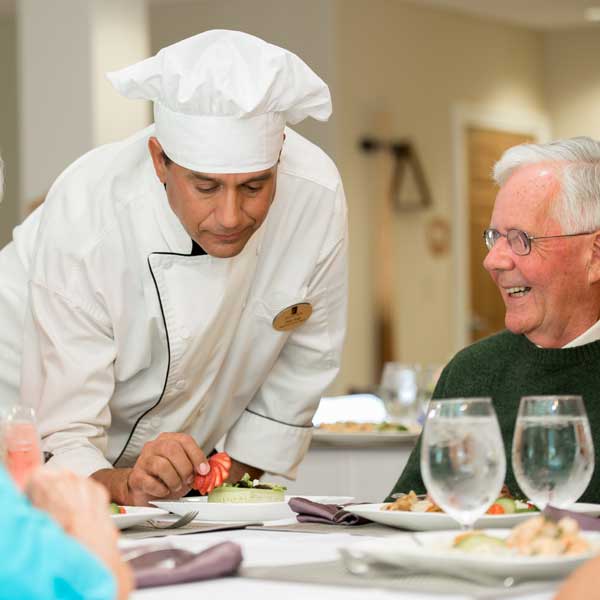 Make Every Meal a Delight
Enjoy three meals a day, each one handcrafted by professional chefs using only the freshest ingredients. Our Mediterranean-inspired menu minimizes salt for optimum heart and brain function, yet if you prefer, American staples and down-home comfort favorites are also available.
Plus, chefs are always standing by to accommodate special requests and dietary requirements, prepare gluten-free meal choices, and more. And that's just what's happening in the main dining room!
Also at Aravilla, you can opt for a freshly prepared meal in one of our themed restaurants. Join your friends in the sports pub for a beer and a game, or dine in comfort while listening to a few notes in the intimate piano bar.  Add to that the fresh-brewed beverages and sweet treats available in the coffee shop, and you can make dining an event that nourishes your body and spirit every day.
Explore the Lifestyle at Aravilla Indpendent Assisted Living