Don't Worry, Be Happy!
A great big thanks go out to the Tidewell clowns for visiting & putting a smile on everyone's face.
Below: Betty, Dale & Robert couldn't help smile when The Tidewell Clowns came to visit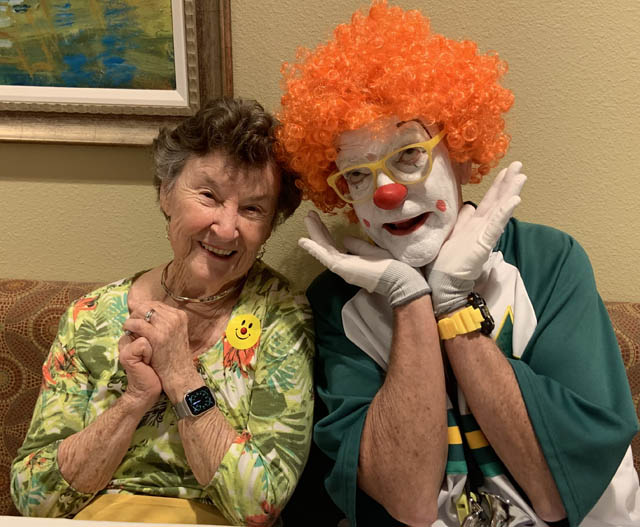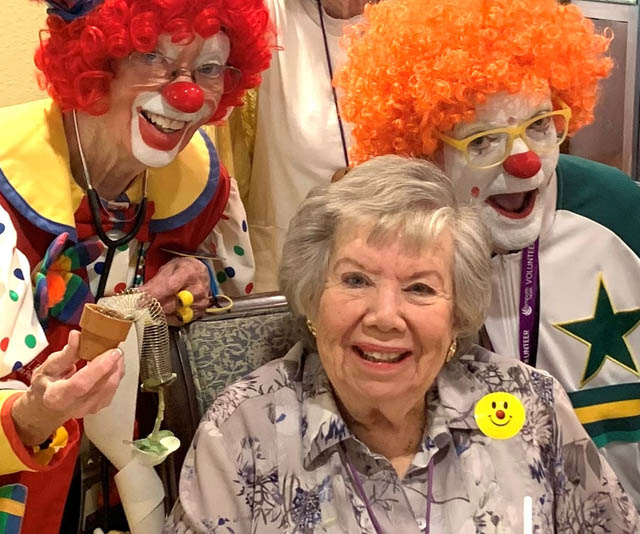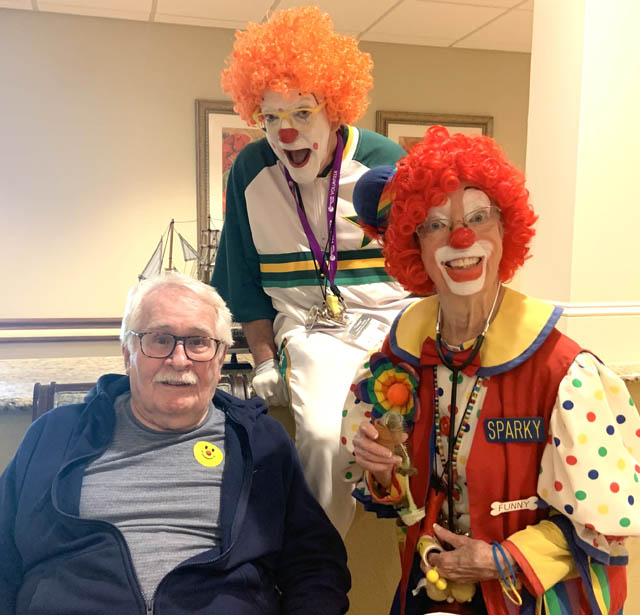 Every Bunny loves some Bunny!
Easter was celebrated in style at Aravilla this year. Residents were invited to attend church services & sing and praise with an in house hymn observation. We had afternoon fun with a special Easter Bingo & delicious holiday Mimosas garnished with Easter Peeps.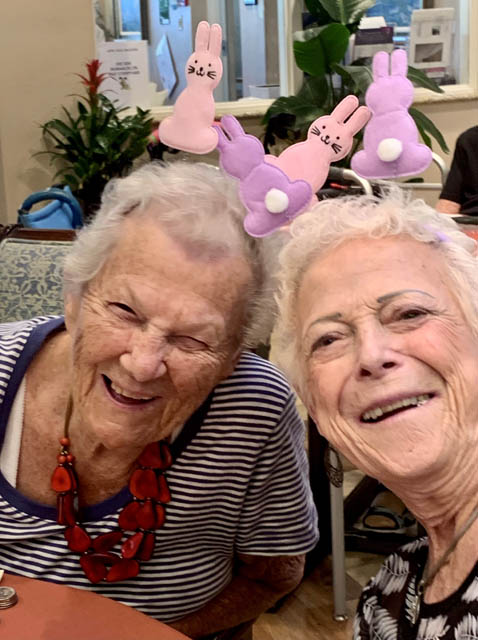 Myrtle & Maggie having some Easter fun!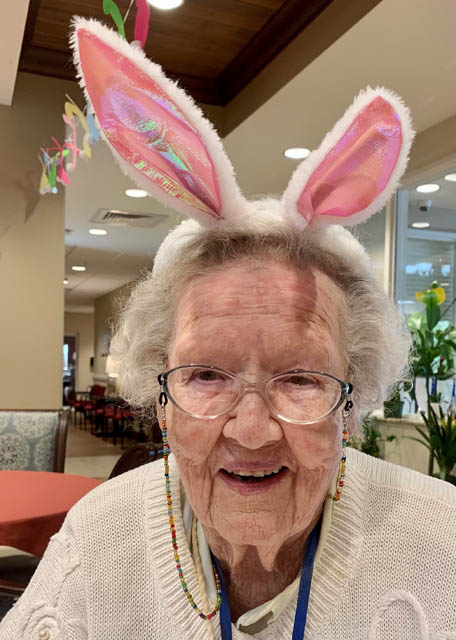 Catherine in her new ears!
Aravilla Book Club Presents!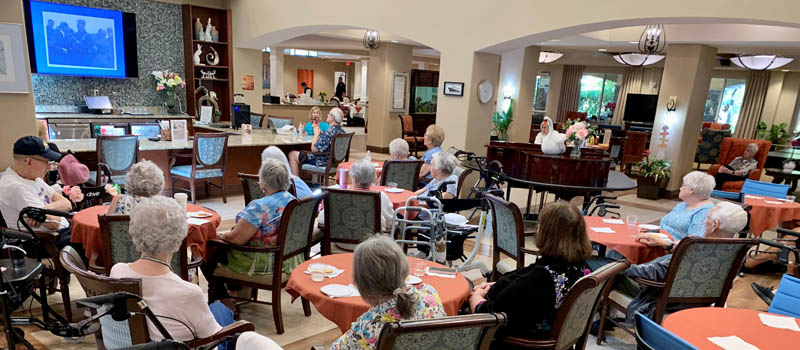 Aravilla Book Club was proud to host a book reading by accomplished author; Agnes Schipper; wife of resident John Carson. The book; Sabine's Odyssey, is a personal account of her family's haunting experiences during the Holocaust. She had an extensive amount of information and an amazing number of photos to illustrate. Our residents were enthralled and engaged with her presentation. They discussed with her and remembered living through World War II. We are so appreciative for Agnes to speak with us about such a serious subject and will continue bringing in writers and other speakers for important discussions to educate, entertain & remember.
Aravilla celebrated the 50's in Style last month at our "At The Hop" Sock Hop 50's party. As we went back in time, sipping served Root Beer Floats, danced & reminisced with Classic 50's Rock & Roll by our resident DJ Dave. Everyone had a blast watching our hula hoop contest & twisting the day away.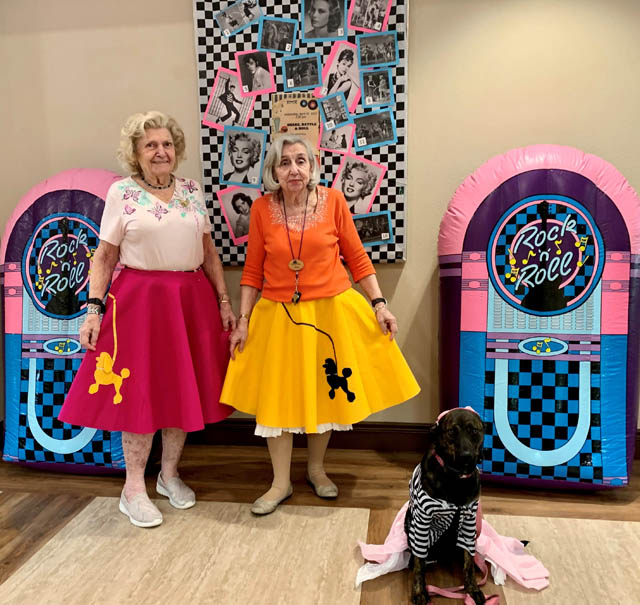 Jean & Angela show off their Poodle Skirts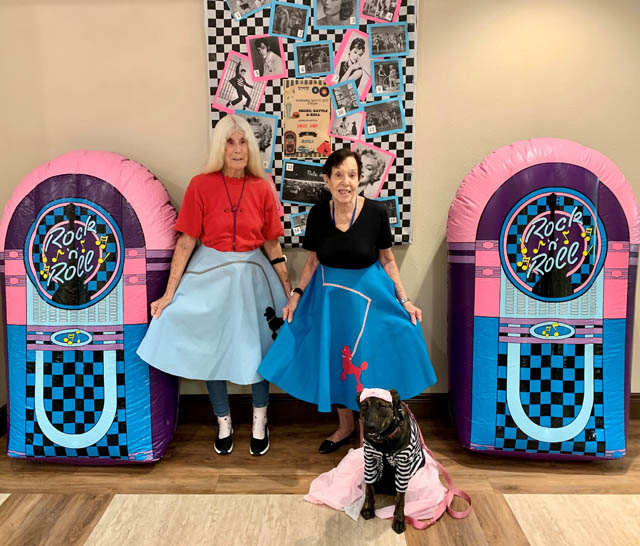 Barbara & Jean are ready for our 50's sock Hop Party
May Big Events!
Monthly Excursions
Lunch Outings & Special Events
Detwiler's
Demetrio's
Sarasota National Cemetery
Tripletail Restaurant
Chili's
Trader Joe's
Drydock
Sonny's BBQ
Aravilla Yard Sale
Save The Date
Saturday, June 10 8 am – 1 pm
Gently used Donations accepted
NO Clothing please
Meetings
Resident Council
Tues. May 9, 2022
Dining Committee
May 26, 2022 10:30 am