St. Patrick's Day
St. Patrick's Day celebrations were held at Aravilla last month. Diana and Nataly decorated with green and gold balloons and centerpieces. We had necklaces and hats that were passed around for all to wear. Residents enjoyed the day with yummy and festive cupcakes. They were green and gold with lucky charm sprinkles. They were almost too cute to eat. We washed them down with a refreshing lime sherbet punch. We found some silly photo props from last year's celebrations, and we could not resist snapping a few pictures of ourselves. The first one to snap a picture was Ross with his green top hat glasses. We had a good laugh. Naomi held a sign that read "I love day drinking". Too funny. Tom took a picture with a green mug of beer and sends a message to all, "Cheers and Happy St Patty's Day to all'.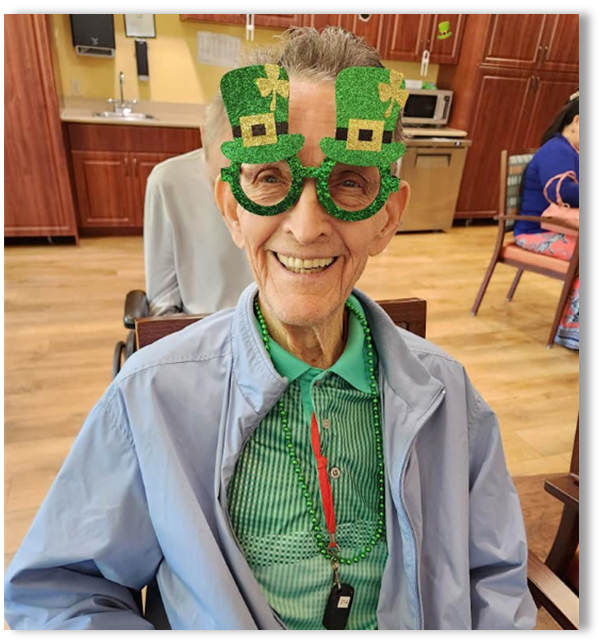 Ross rocks the top hat glasses.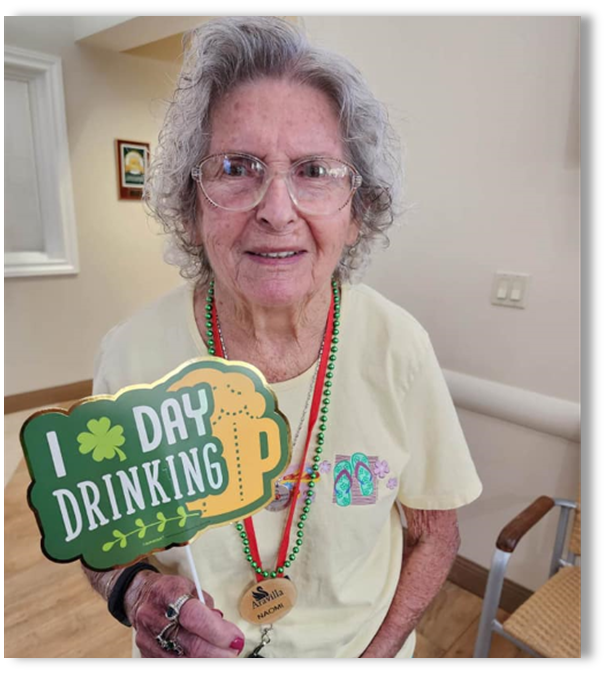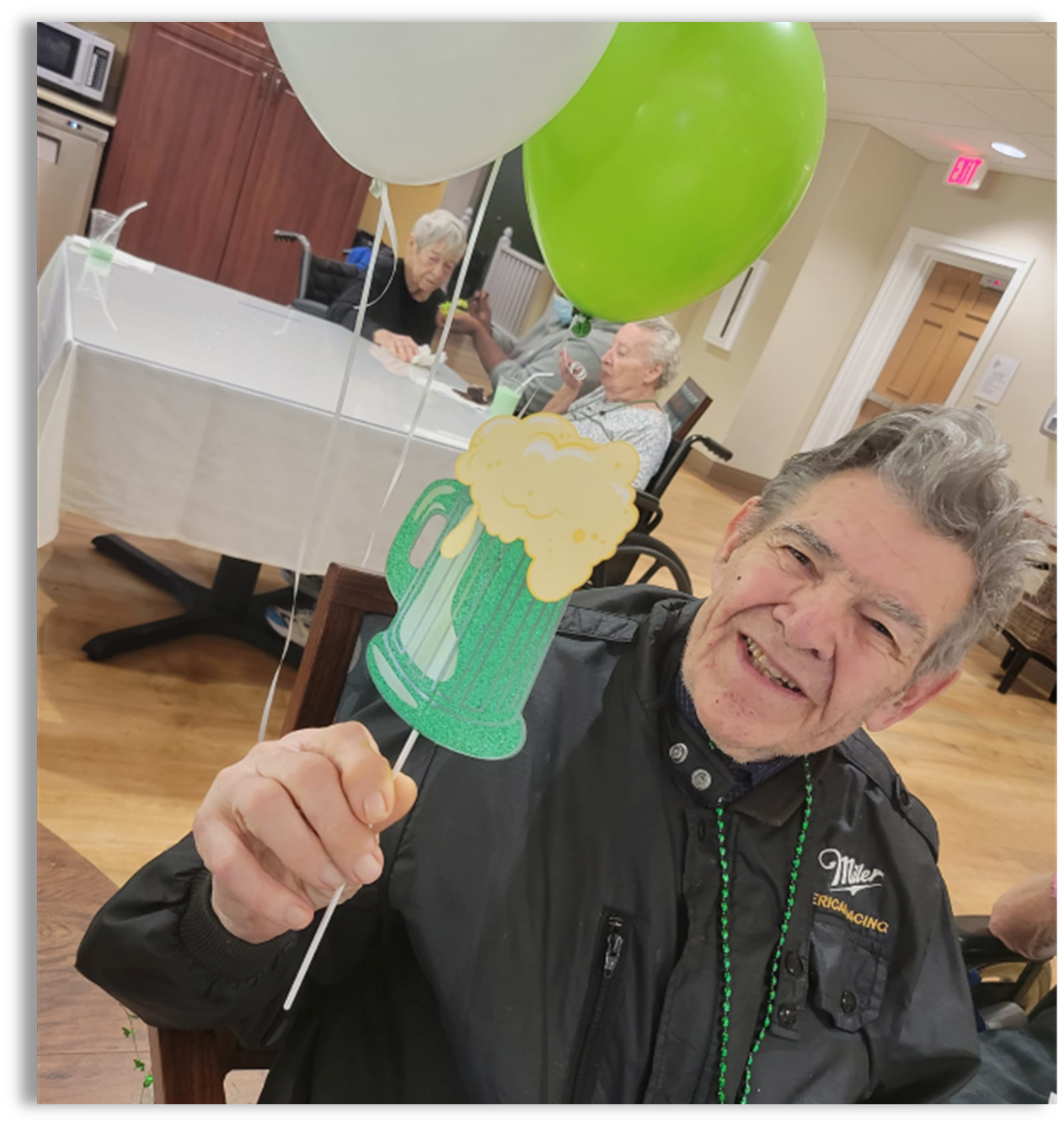 Lunch Bunch Crew!
The Aravilla Lunch Bunch crew visited several restaurants in the month of March. We started off with Applebee's, followed by Sonny's BBQ, Pizza Party and finished at the Grasshopper. Sony's BBQ was our favorite spot this month. The smell of smokey BBQ when you walk in is amazing. Most of us ordered the smoked beef brisket which was delicious. Some had it with a sweet potato, French fries and others with coleslaw. Either way, we all enjoyed it. It sure was finger licking good. Come get away with us! The Lunch Bunch Crew goes out every Wednesday. We will sign everyone up on at least one outing per month. The goal is to give everyone a chance to go on a trip. Diana and the Activities staff always do a great job scheduling everyone with a day that works best for them.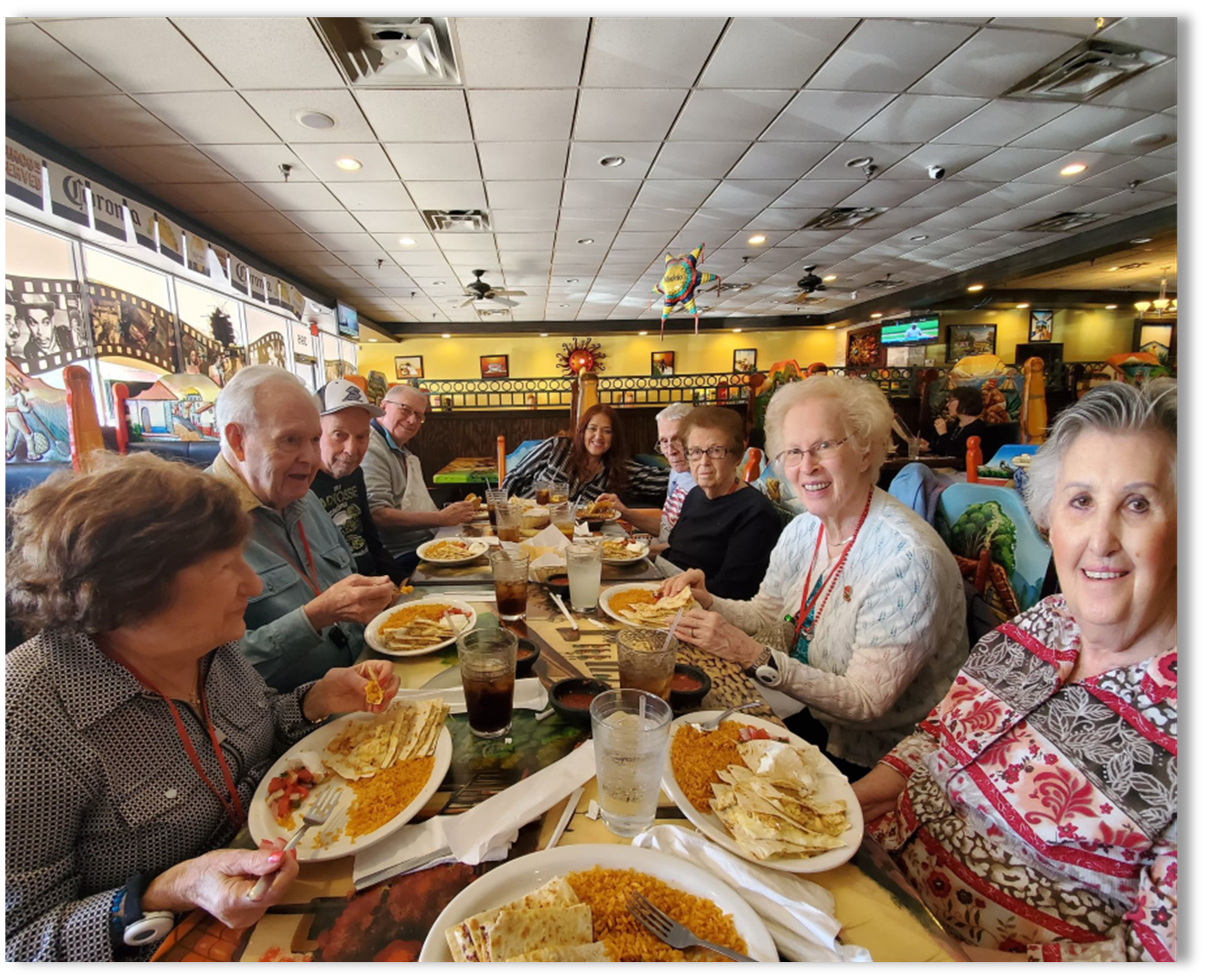 A recent study revealed that music therapy leads to increased levels of "feel-good" brain chemicals in Alzheimer's patients. Music can boost mood and reduce stress and agitation. How? The human brain naturally responds to music, and the benefits continue long after the music stops playing. Music has the unique ability to evoke memories and emotions from long ago. Try choosing favorite songs or musical styles from your loved one's formative years. Music can also be used to raise a particular mindset or mood. In daily activities, the right background music can guide behaviors and responses. Music can also be used during exercise and physical therapy sessions to help promote balance and concentration. When frustrated or overwhelmed by the inability to communicate, music continues to be a valuable tool. Gentle music can help calm agitation and refocus negative behaviors into positive activity. Join us most days for live music entertainment at 2:00 pm in the Lobby or upstairs in the dining room at 3 pm.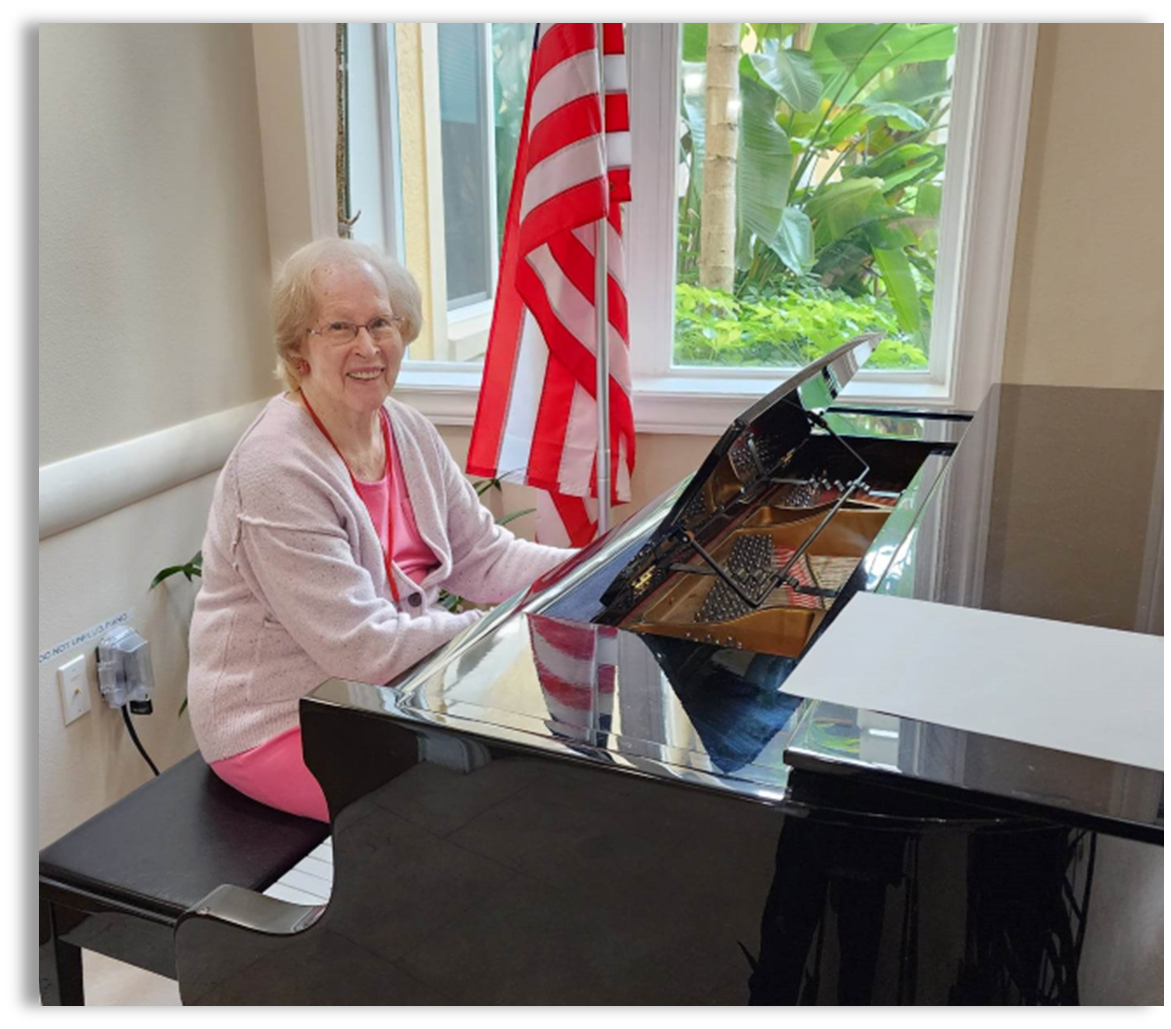 Barbara loves to play the piano.
April Fun!
Lunch Outing
Olive Garden
Culvers
Demetrios
Chick-Fil-A
Easter Egg Hunt
April 9th 11 am
Easter Party 2pm
Forget Me Not Ministry
Tuesdays 11 am Atrium
April Birthday Party
April 18th 2 pm Atrium
3 pm Dinning Room 3