These hot summer days put all of us at risk for dehydration. Water isn't just a refreshing thirst-quencher. It's essential to almost all bodily functions, from lubricating our joints to pumping blood to our heart. Staying hydrated is a key part of maintaining good health. Sometimes we get caught up with our everyday activities and simply forget to drink.
Older adults are more prone to becoming dehydrated for a number of reasons, including a diminished sense of thirst. We must remind each other to take a few extra sips to combat this Florida heat. Stay hydrated!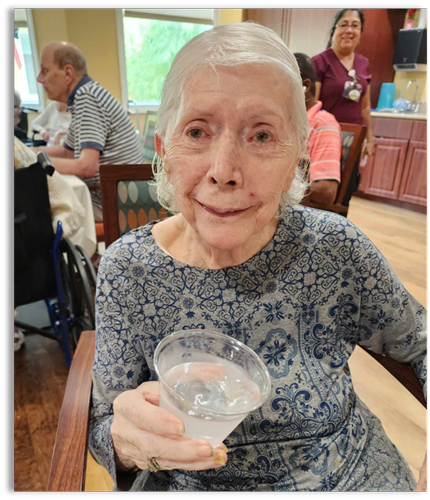 Betty drinks a refreshing glass of cold water during the afternoon activities.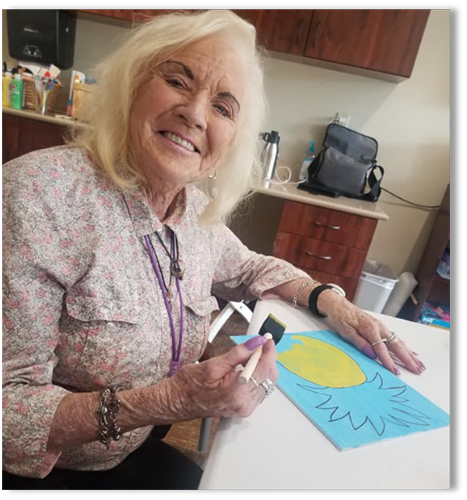 Mo works on her summer art picture! Tropical Pineapple.
This hot summer month has left us looking for ways to stay cool while we keep busy. We have done a great deal of arts and crafts. Our theme has been foods that keep us cool during these hot summer months. We took our brush to the canvas and came up with neat pictures. We painted colorful watermelons and pineapples. The watermelons were titled "One in a Melon" and the pineapples "A Pineapple a Day Makes the smiles stay". It was so much fun! We hope to see you at the next art class!
Aravilla Celebrations
Last month we celebrated Independence Day. Our residents enjoyed a great BBQ meal prepared by our Dietary department. Chef Carla and her team grilled mouthwatering ribs, hotdogs, baked beans, coleslaw and more. Our residents later worked on a Fourth of July fireworks crafts. Everyone decorated their canvas with paint and glitter. This kept us busy in the afternoon until it was time for a yummy treat. During cooking class we made yummy patriotic waffles served with red strawberries, whipped cream and Blueberries. Since we love to sing, we ended the afternoon with a patriotic sing-a-long. Everyone had a wonderful time as they sang to Yankee Doodle, God Bless America and other favorite tunes.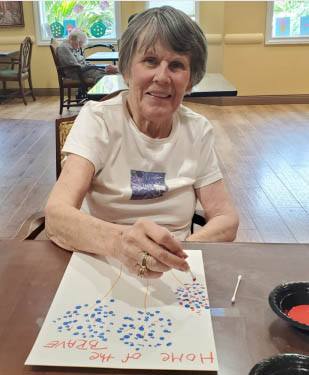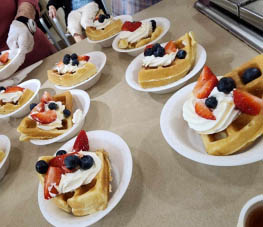 Washing your hands is easy, and it's one of the most effective ways to prevent the spread of germs. Clean hands can stop germs from spreading from one person to another and throughout an entire community—from your home and workplace to care facilities and hospitals. At Aravilla, we have turned handwashing into a consistent activity. We try to wash our hands before and after activities. Staff has encouraged residents to come to the sink one at a time and properly wash their hands. Lather your hands with plenty of soap. It is very important to wash your hands for at least 20 seconds. Rinse your hands under running water and dry them with a clean towel. This is a great way to stop the spread of germs.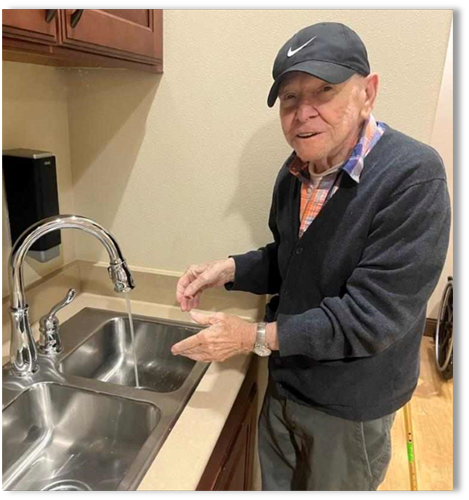 Joe makes sure to wash his hands before meal time.
August Fun!
Fancy Nails
Mondays at 3:00 pm
Atrium
Sundae Social
Sundays at 3pm
Atrium
August Birthday Party
August 16th at 2:00 pm
Atrium
International Day
August 30th at 2:00 pm
Conference Room
Check our monthly Memory Care Community Calendar and see what's all planned for August!