Aravilla Adventures
Have you been out with us lately? Come and join us on one of our outings. We have 2 weekly outings, the Lunch Bunches are always super fun! On Wednesdays we go to restaurants all over town. There is no telling where you might spot the Aravilla bus. No matter where we go, we always enjoy a good meal with great friends. Our Friday outing is the Mystery Bus trip. This is always an exciting sightseeing trip. Everyone enjoys a trip to a different exciting spot in Sarasota. Our driver will reveal where the bus is going once everyone is on board. It's always a Mystery!
In the activities schedule you will find all of the times and dates for our outings. We load at 10:45 am and leave by 11 am. Diana and Nataly make the weekly outing lists. They always make sure to give all the residents a chance to get on one of those outings. Can't wait to see you on the bus.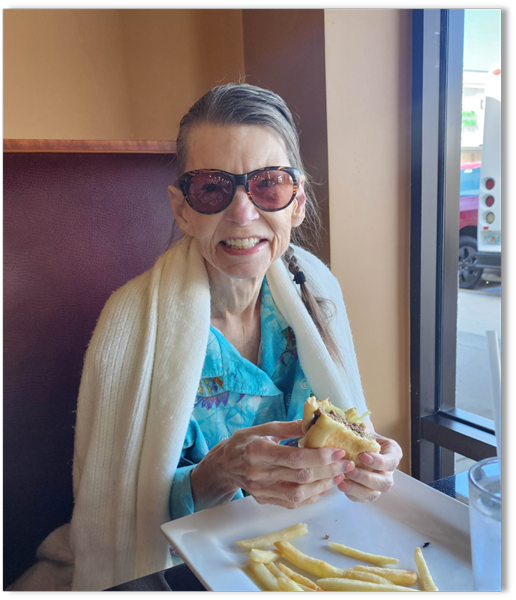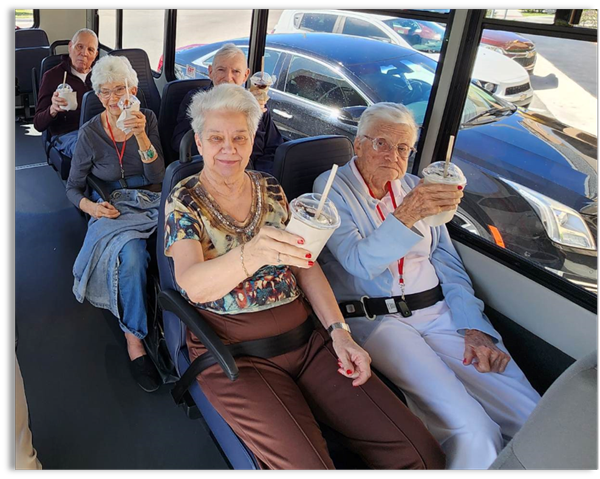 Morning Routines
This Florida heat is no joke. We have had record high temperatures that feel well over 100 degrees outdoors. This heat has kept us indoors the majority of the day except for the morning routine. Every morning a group of residents gathers to take a walk around the building. We chose the early morning before the day gets very hot. After breakfast we grab swan foods and head to the gazebo where the swan and ducks are anxiously waiting for us. The gazebo is a nice place to sit and get fresh air outside. The walk is our warmup before the morning exercise class. Exercise class starts at 10 in the atrium and on the second floor every day. We hope you can join us on our morning routine.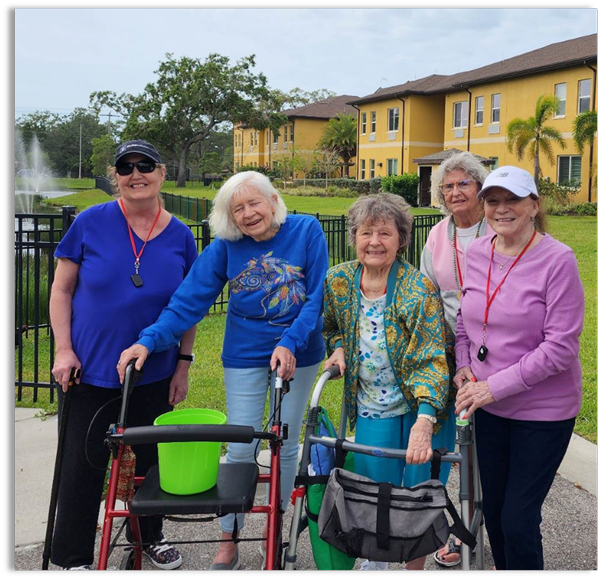 Father's Day
All the cool dads came to the Father's Day celebration this past month. Our musical guest on this special day was Mark who played all of our favorite tunes for us to sing-along to. Diana and Nataly baked delicious golden soft pretzels with a cheese dip for everyone. We paired this tasty snack with an ice-cold beer. Those beers really hit the spot on such a hot summer day in June. It wouldn't be Father's Day without presents for all the dads. The gift bags were decorated by our residents during art class. In the bag came sunglasses and a chocolate bar. Happy Father's Day to all. Cheers! Tom enjoys an ice-cold beer on Father's Day.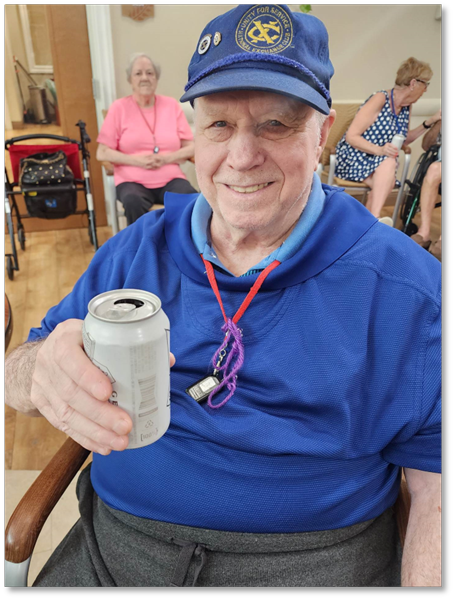 July Fun!
Be Fit Exercise Class
Every day in the Atrium
10:00 am
Fourth Of July Cookout
July 4th at Noon
RSVP 941.444.9398
July Birthday Party
With Rick the Trickster
2 pm Atrium or
3 pm 2nd Floor
July 19th
Hollywood Glitz Party
July 18th at 2:00 pm
Atrium & Dining Room 3