Forget Me Not Ministry
Forget Me Not Ministries is actively engaged in making the love of God a reality and available to all regardless of their station in life. This nondenominational ministry is unique in it's ability to bring the Word and the love of God to those who may not be able to attend traditional services. They are a mobile ministry offering on site church services, including handshakes and hugs, to groups and individuals in elderly living facilities or in their home. They are available to families of residents for their spiritual needs as well.
Among their offerings are small groups for bible study and grief counseling groups for remembering loved ones. Here at Aravilla Sarasota our residents look forward to seeing them every week. Phil and his group have been visiting Aravilla for a few years now. When we first met them they were part of another church and have since then branched out to start their own ministry to fil the needs of Aravilla memory care and assisted living residents and many others. Please join us for service every Tuesday at 11 am in the atrium.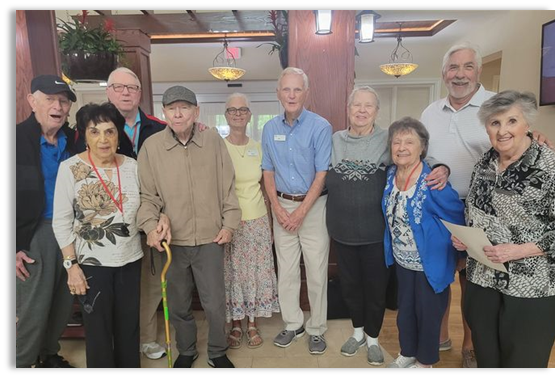 Aravilla Residents pose for a picture with Forget Me Not members after our weekly service.
Spread the Holiday Cheer!
The Holidays are officially on their way. Every year we hold our porch decorating contest at Aravilla Memory Care. This year is no exception. The residents and their families decorate their personal front porches or doors. Everyone is excited to get their creative juices flowing and use their years of festive tree trimming experience. A winner is chosen by staff and visitors at the Employee Christmas party on the 16th. There will be a winner from each floor. Families of our senior residents are encouraged to help decorate because this help spread the holiday spirit. We look forward to seeing all the beautiful and creative ideas on each of your porches. Happy Holidays!
Thursday afternoons you might find us being creative. That is because our residents gather for an Art Class. We have worked on many projects such as flowers and nature pictures. We take our brush, canvas, glue sticks, paint, as well as all of our other art supplies and always have a great time with wonderful friends. We hope you join Judy and the rest of the residents for the next project at art class. Every Thursday at 3pm.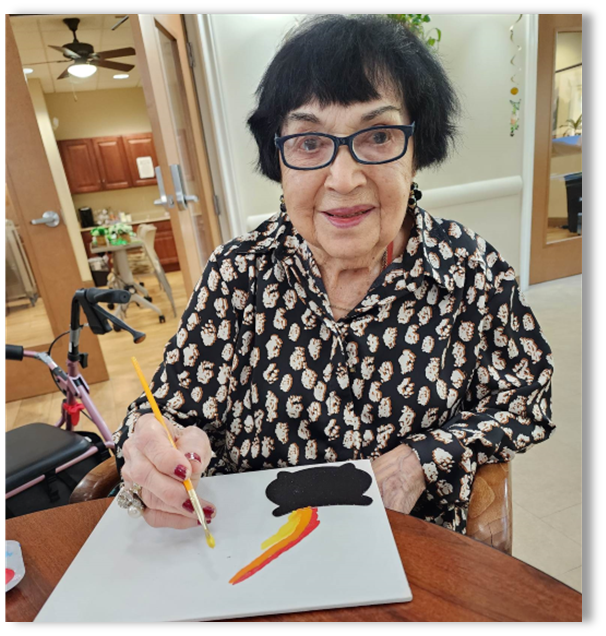 Aravilla Charity Yard Sale
Aravilla is hosting its annual charity yard sale. It will be held on June 10th from 8 am to noon. All proceeds will benefit the Alzheimer's Walk. We would like to ask for your help with donations of treasures and trinkets that we could use for our yard sale. Clean out your storage for a good cause and bring your items to Aravilla. Scarves, purses, jewelry and other accessories are welcome. Lamps, home décor, small appliances, furniture, toys, games and sporting goods are other examples of items we will be collecting. Unfortunately, we can't accept shoes or clothing this year. Please turn in your donations by June 1st to Marge in the Assisted Living building or to Diana in the Memory Care. You may drop them off at the front desk there or contact Marge or Diana for questions at 941-444-9398.
Below: Sally and Jeanne help organize the donations for our charity yard sale.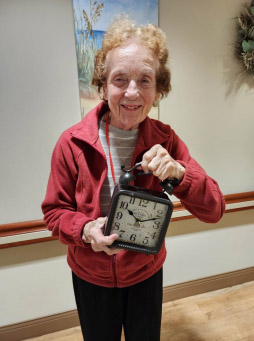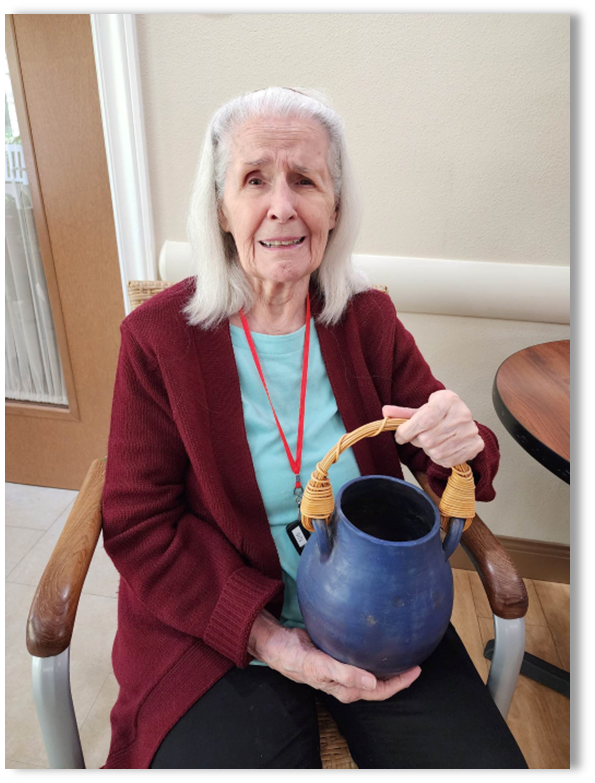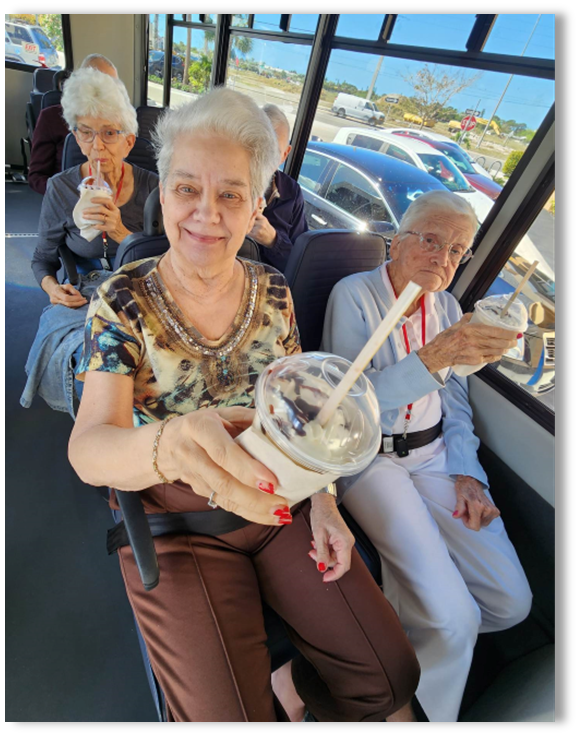 Frappe stop for the bust trip!
We are so fortunate to live in a beautiful city such as Sarasota. Many people pay lots and lots of money to vacation where we live. We are not taking this beautiful city for granted. We have loaded the bus and are taking scenic drives through all of Sarasota. Our Mystery Bus trip has been full every Friday. For those of you who do not already know, we call it "Mystery Trip' because you never know where the bus is taking you until everyone is onboard. Last week our residents were surprised with a sightseeing trip that made a stop for ice cream. We ordered the flavor of the day which was Turtle Cheesecake. It was so delicious. We hope to be back soon. Diana will be inviting residents to join us for all of our trips. We will be taking turns to give all residents who wish to go a chance to ride with us,
May Fun!
Join us for Cinco De Mayo Fiesta
May 5th 2 pm
Atrium & Dining Room 3
Mother's Day Tea Party
May 13th 10 am
May Birthday Party
May 31st 2 pm
Atrium & Dining Room 3
Memorial Day Remembrance Salute
May 30th 11 am
Atrium