Halloween Costume Party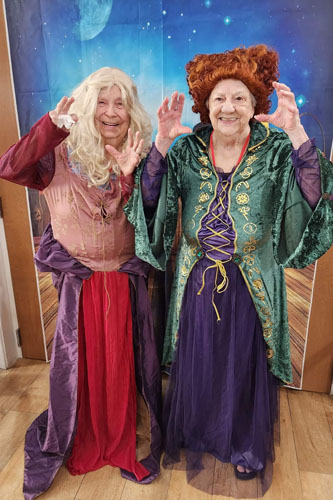 Halloween is one of our favorite holidays here at Memory Care Aravilla Sarasota. It is no surprise that we go all out with our costume party. Nataly served her spooky eyeball punch and cookies. Nataly and Tina made sure that everyone had a costume. The residents were excited to dress up in costume. We had all types of costumes. Sue and Betty dressed as they Hocus Pocus sisters. Joe was a robber, Thelma was a Hula dancer. She wore a coconut bra and grass skirt. Roy surprised us all wearing Goldie lock braids. He was hilarious. Cruella Deville (Barbara) wore her pearls, fur coat and big hair. There were many more costumes. We had flappers, cowboys, priests, nuns, witches, clowns, baseball players, hippies and even Marylin Monroe. This was such a fun party. We already can't wait to see next year's costumes. It's going to be even bigger.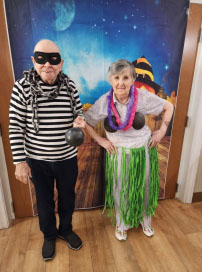 Joe, the robber & Thelma the hula dancer.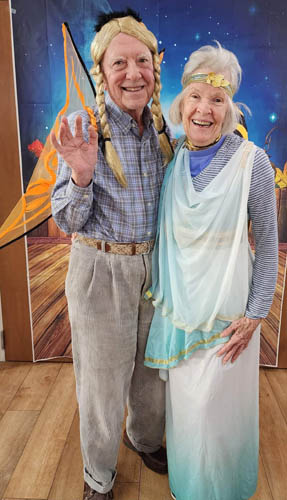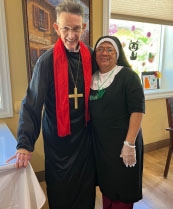 Father Ross and Sister Carmen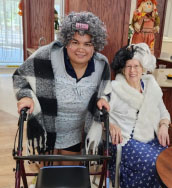 Nataly and Barb were our first party guests.
Socializing is for kids ages 2 to 102. Most people understand the importance of encouraging young children to socialize, but it's easy to overlook the importance of socialization for older adults, especially seniors. Human nature leads us to crave fulfilling relationships with others. As we age however, life circumstances may push us toward loneliness and isolation unless we take proactive steps to cultivate new relationships. This applies, regardless of whether someone lives alone or in an assisted living or memory care community. Hanging out with friends increases self-confidence and self-esteem. Joining a group of people with the same interests, makes life more fun. It can provide a reason to get up & go with a smile. Feeling helpful & needed often makes a huge difference in anyone's life, no matter their age. We encourage our residents to grab a buddy and come join some fun activities here at Memory Care Community Aravilla!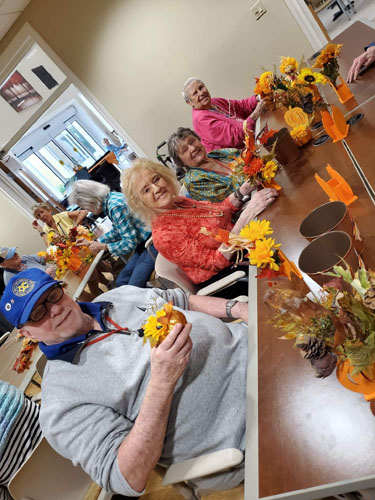 We made beautiful centerpieces during "Flowers with Friends"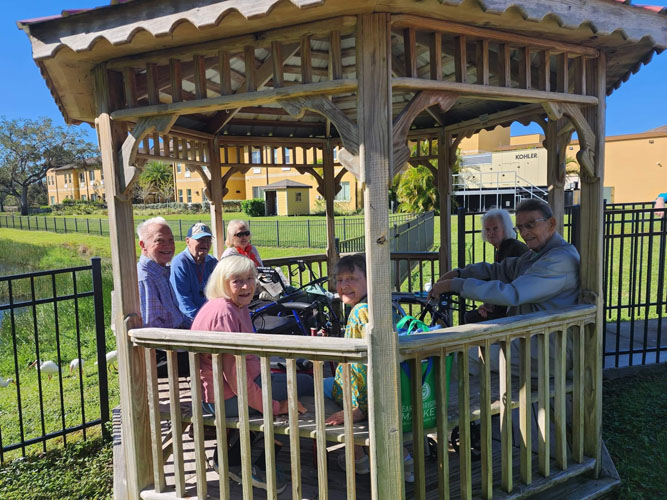 Our residents gather for a picture on their morning trip to feed the swans.
Lunch Bunch Trips!
Lunch Bunch trips are so much fun! We are always excited to get to go on these lunch outings. Mondays we will be taking a group of residents out to lunch. We usually visit different restaurants around town. We will take turns every week to give everyone a chance to go on an outing. No need to sign up, we will keep everyone in mind on the bus outing rotation. Diana or Nataly will let you know when you are scheduled. Grab a light jacket and be ready to enjoy a tasty meal.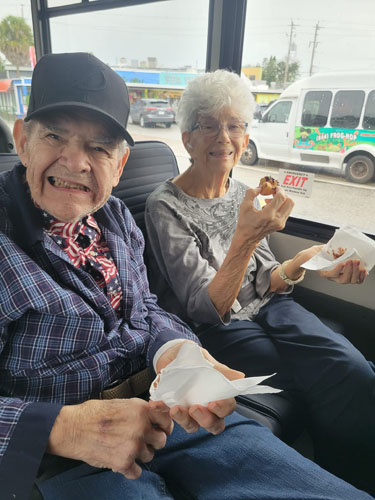 Tom shares a donut with Lois on the bus trip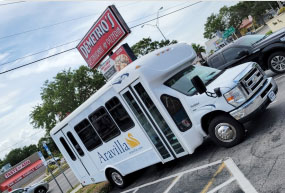 Our bus, parked at Demetrios, one of
our local favorites.
November Fun!
Lunch Bunch Trips
Week 1 Chili's
Week 2 Demetrios Pizza
Week 3 Picnic
Week 4 Keke's
Veteran's Day Ceremony
November 11th, 11 am
In the Atrium
Movie Outing
Tuesday November 8th, 6 pm
Fall Photoshoot
November 5th & 6th
Atrium