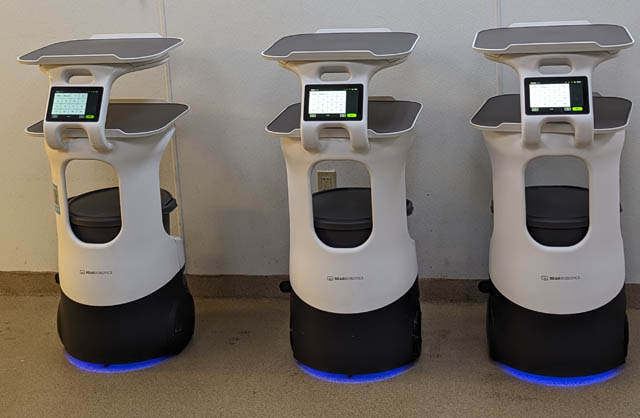 Our Foodie Bots Sizzle Up a Tasty Dining Experience
We are delighted to announce the seamless integration of food robots into our culinary experience at Aravilla Sarasota. Our residents have warmly embraced the food robots, appreciating the efficiency they bring to meal delivery and the technological aspect. In fact, they even organized a contest to give each of our four robots a name.
How the food robots operate:
Our food robots originate from our main kitchen, where the line cooks load the meal onto the two trays they carry. They are pre-programmed with designated "stops" for specific tables in our two dining room areas. Their primary function is to swiftly and accurately transport food from the kitchen to the dining rooms, enabling our hosts or servers to focus on resident interaction without compromising on service speed. Food is delivered within 2 minutes to the main dining room and within 3-4 minutes to the second dining room. Each robot can transport 7-9 plates at a time, further streamlining the dining experience for our residents.
Benefits of integrating food robots:
Improved Staff Efficiency: The robots significantly reduce the time spent in the kitchen for our servers, allowing them to dedicate more time to the residents in the dining room, addressing their specific preferences and needs.
Speedy meal delivery: Swift and efficient food delivery to both dining rooms not only minimizes wait times but also guarantees that every resident enjoys hot and delectable meals.
Reduced Employee Turnover: Enhanced workflow and reduced labor hours contribute to a decrease in employee turnover.
Easier Table Bussing: The robots assist servers by carrying heavy plates directly to the dishwashing area.
Food robots safety features:
Our robots are equipped with laser and camera systems, enabling them to detect when to halt and allow residents to move safely to their tables or navigate in and out of the dining room areas. They are also equipped with Lidar sensors, ensuring 100% safe and self-driving navigation.
The introduction of our food robots into our assisted living community has proven to be a resounding success, earning the admiration and support of both our dedicated staff and our cherished residents. These robots have not only expedited meal delivery but have also fostered greater staff-resident interaction and enhanced the overall dining experience. With their safety features and efficient service, our food robots have become valuable members of our community, contributing to a dining environment that is not only convenient but also deeply enriching for everyone involved.